Soirée Cinée
Soiré Ciné :
Les Schroumpfs et le village perdu ! une Aventure nous attend .
View the Trailer
LAFITTE MUSIC CENTER 
8089 Madison Ave, Citrus Heights, CA 95610
Always free for EFSAC Students !
$1 for general Admission
$2 for Adults
Apéro pour les grands !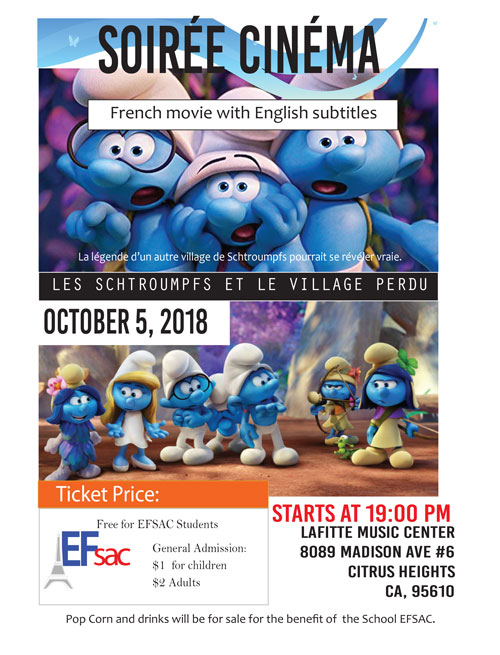 Le Oké& Olais
Chantons le Beaujolais Nouveau ! 
MARK YOUR CALENDAR, START TO PRACTICE ! 
We are going to celebrate the Beaujolais Nouveau on December 1st, 2018
This is  our contribution to stop the drought in California, and to celebrate our heritage
See you in December !
La Kermesse
What a celebration, it is our way to say thank you to all our students and let them have a good time ! La Kermesse is also becoming our main fundraiser.
See in May 20, 2018
Le Mardi Gras
For four years from 2012-2016, EFSAC celebrated the Mardi Gras, we had a very good time and it was a wonderful fundraisers.